4 Benefits of Having Art in the Nursery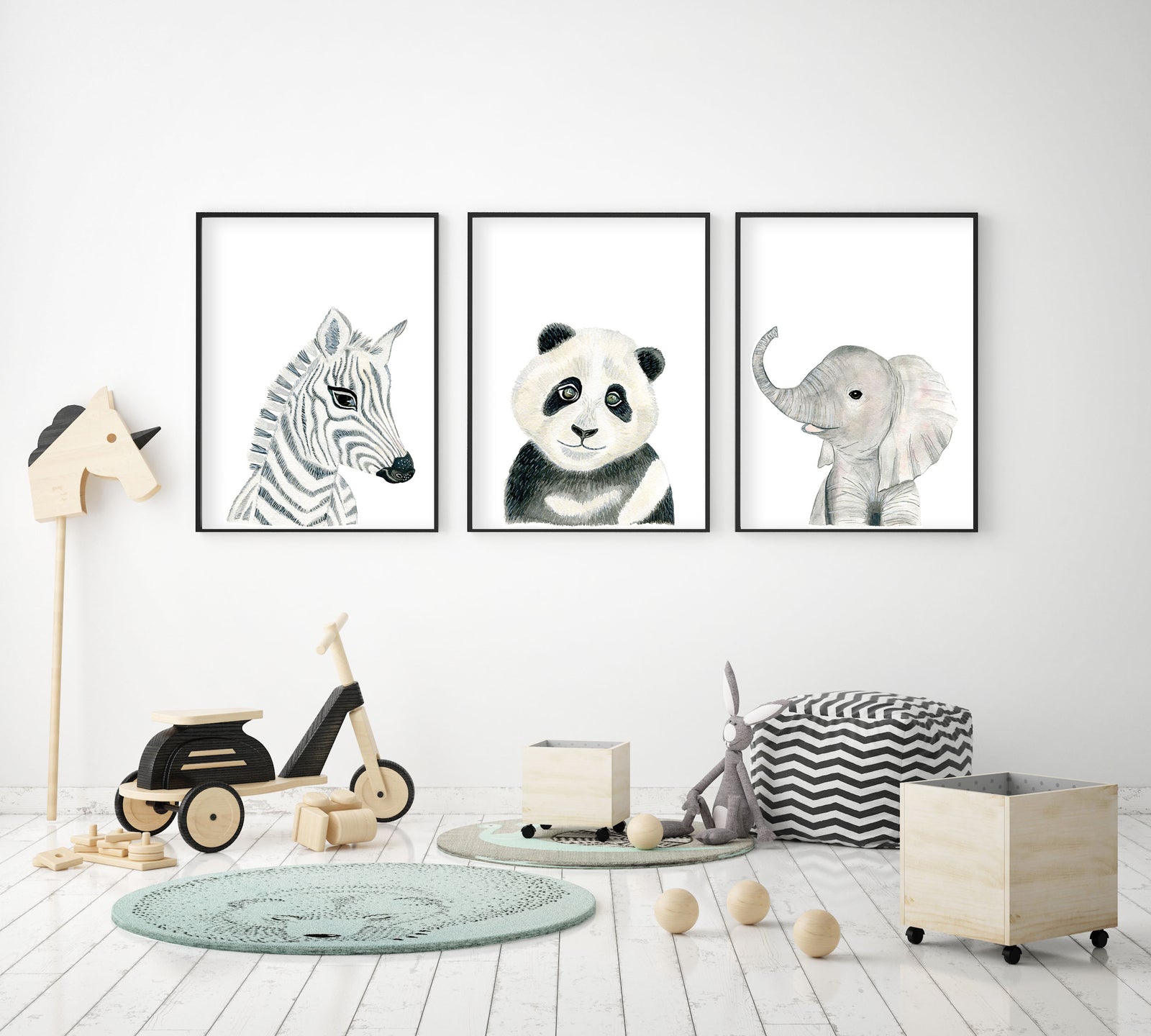 Our safari set adds a special touch to any color palette
Are you planning to decorate your nursery?
If yes, I can sense the confusion in your mind already.
Decorating your home, especially a nursery is a jumbled experience. One moment you are all geared up to design the space in a unique way and on the other, you tend to doubt your choices and try to seek inspirations of using paintings, wall arts, and other additions from the web.
Now, among all decor items, we'd suggest you pay a little more attention while choosing paintings for the baby's nursery. A tasteful selection of paintings will give a creative boost to your kid's imagination and help them build emotional intelligence right from a very young age. This will also add to the aesthetics of the place and give it a more put-together look. 
Here are some of the most notable benefits of including pictures in your nursery:
 It Adds Up To Your Color Palette
When designing a nursery, you basically look for a soothing and warm colour palette. After all, you don't want to surround your child with dark shades that can startle them out of sleep.
Now, the biggest problem with soothing colours is that these are minimal. Thus, adding some bright and beautiful pictures will improve the appearance of the room and add up to your decor. Adding different kinds of pictures or creative watercolour paintings can complement the background and give a refined character to your interior scheme.
It Generates a Focal Point
 When it comes to interiors, every room or decor plan needs a focal point that draws the attention of the viewer. And what can be better than an original, handmade painting?
Generate a focal point with our set of 3 baby birds!
For instance, think of a decent watercolour painting right above the little closet. It will automatically capture viewers' attention and make them think or feel something.
To create such a focal point, you need to make sure that the size is right. You don't need too little or a huge painting to do the needful. But, you need to take the measurements of the area and get yourself an art size accordingly.
It Boosts the Imagination of Your Child
Do you know that children learn from their surroundings? Even a single element of their nursery can instantly draw their attention. Adding paintings or pictures to your nursery can enhance your child's imagination and further add up to their cognitive and emotional development.
You can include the moon, stars, and space or simply a beautiful portraits of baby animals for boosting the imagination and creativity of your child.
Animals from our woodland collection can boost your baby's imagination 
It Makes Your Nursery Room Complete
A room without wall art is always an unfinished business. Wall art, including paintings, are the refining elements that enhance the other elements of your room and make it look finished. You can consider wall art to be that extra yet needed touch that can grace any interior magazine. 
Nevertheless, you cannot just go for any random picture or painting to start with. You need to understand the style of your nursery and colour palette that fits perfectly in the room.
Are you looking for full-of-life, beautiful paintings to decorate your nursery?
We are here to help you.
The Small Art Project is specifically dedicated to creating watercolour baby prints for your little ones and toddlers. Add warmth to your nursery with original watercolour prints - contact us here.
---